Tuesday, July 19, 2005
we painted the town in bright neon colours
WARNING!

majorly enormous

photo post

alert!

my apologies, especially to those on slow connections.

*****

15th july 2005

friday night out on the town.

the day i maxed out my 128MB-130-photo-capacity memory card and overworked my poor slave of a digital camera.

---


special of the night

DOOFUS "hijacked" a red rose in full bloom for me, from a table bouquet at one of the roadside food stalls along clarke quay. i think the people at the stall were too stunned to protest when DOOFUS went up to them and said "don't mind, i take one ah!" and then just plucked a rose.

poor things. their table bouquet became lopsided and not balanced already, thanks to DOOFUS. but i'm not complainin - DOOFUS is a sweetie pie.



but the real question here! is what is a beautifully arranged table bouquet of red roses doing in the middle of a roadside food stall?!

*****

CRAZY ELEPHANT @ CLARKE QUAY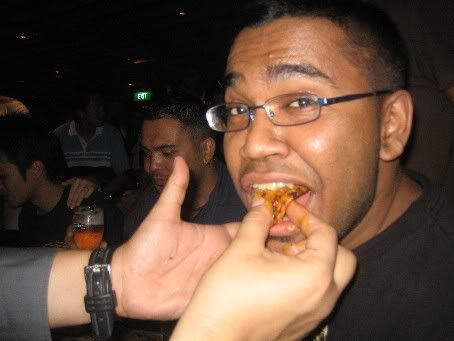 wayne

enjoys getting things

stuffed

into his

mouth

by members of the

male species

.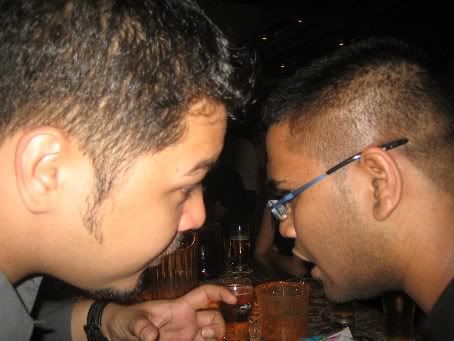 "how big is yours? this big?"
"wait. i go and measure first."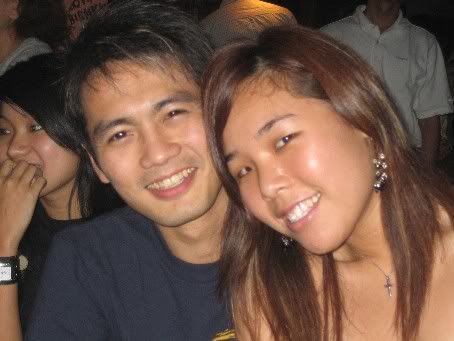 le best friend / brother with le sister-in-law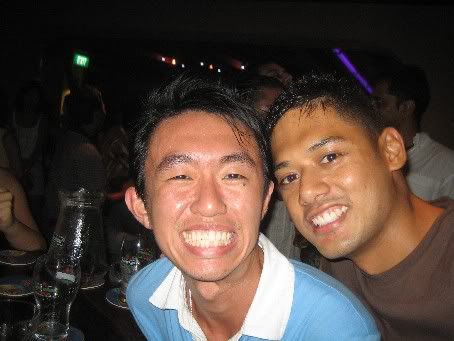 haresh & his friend

- who's secret desire is to be a

toothpaste advertisement model

.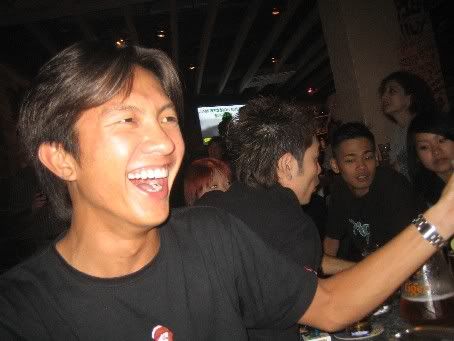 jon

in his starring role as

"the happy squirrel"

!



part of

the band

that plays at crazy elephant

the chinese dude is AWESOME SHITE! and the drummer's kinda cute (as my MALE best friend puts it, he's "cute.. look abit like simon yam".)

but me and sue were droolin over the

guest drummer

- some brazilian guy that looks like

kaka the soccer player

- cute and his hands move

reeeaaal fast

(fast is goooood! bwahahaha!)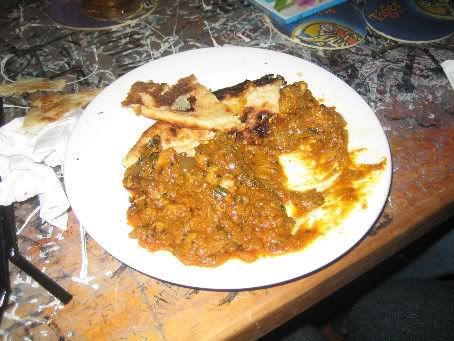 food!

- naan bread and chicken curry/dhal - cooked and supplied by the DOOFUS. t'was damn goooood. *slurp*

*****

i popped over to GOTHAM PENTHOUSE @ CLARKE QUAY to take advantage of their free-flow-vodka-for-ladies-till-1am. free booze! yay! heh.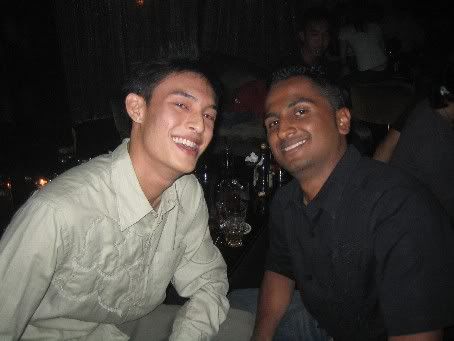 ryan & luke

- but of real importance in this photo is the

alcohol

on the table

that is hidden behind them!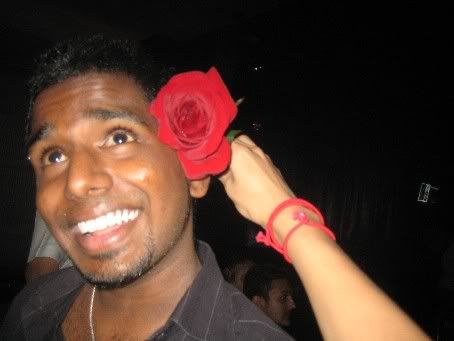 richie

:

the mexican dancing senorita-man

- with special appearance by "eileen's rose"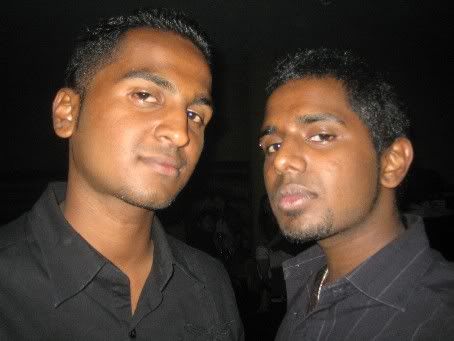 luke & richie

play it real cool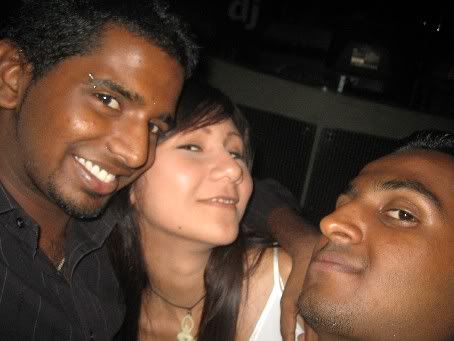 me & richie

- with cameo appearance by

"pop-up-luke"

- and i look kinda

retarded

in this photo. bah.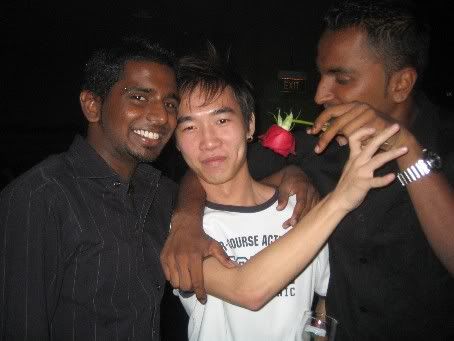 the

biscuits

in the

oreo cookies

favourite pastime is

disturbing the creamy filling

stuck in between them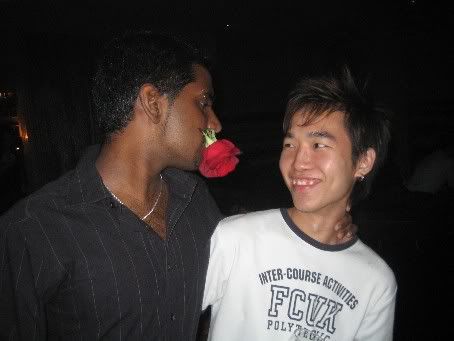 "aye carumba! you are so sexxxay. do you think i'm sexxxay too? hmm? do you like my rose? marry me, now!"
"dude! get away from me!"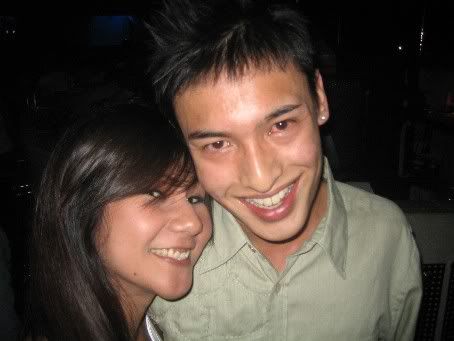 me & ryan

- with his trademark smile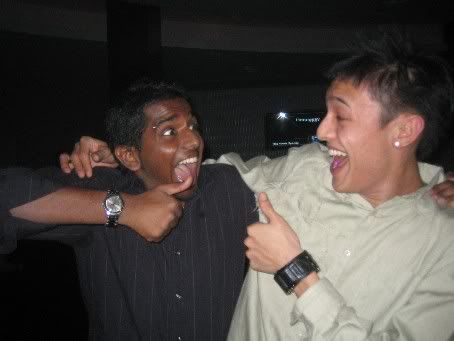 richie & ryan

are overjoyed at becoming

joined-at-the-hip siamese twins





"eh, we got 2 bodies, we got 2 legs! yay!"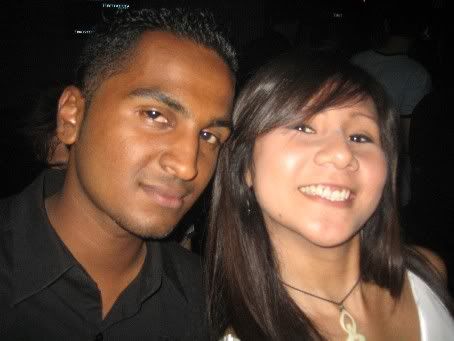 me & luke

- with cameo appearance by

"cheesy grin"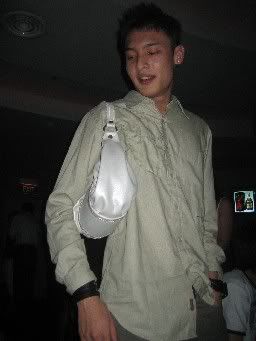 ryan

gets in touch with his *cough*

sensitive

*cough* side while modelling the lastest handbag style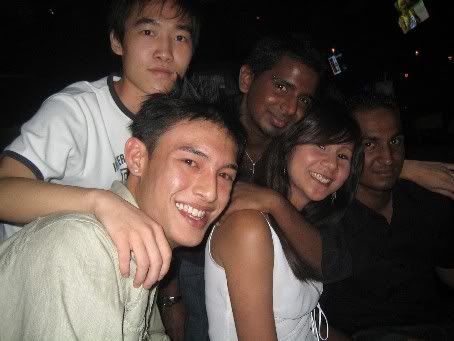 surrounded by the young boys

*****

back to CRAZY ELEPHANT @ CLARKE QUAY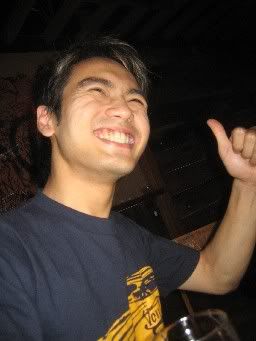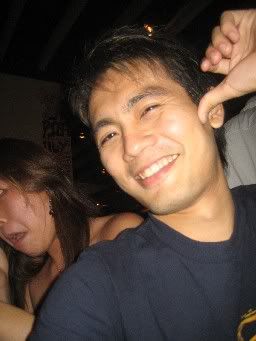 brandon

the best friend displays his vast array of

"kawaii neh!"

poses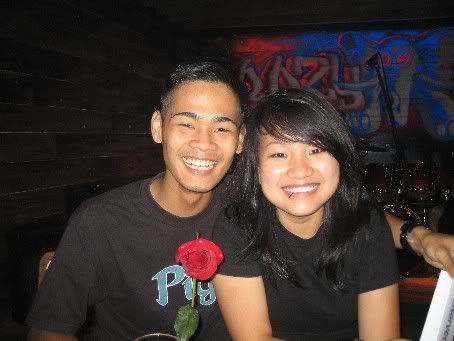 the tale of :

scotty & keshia

&

"eileen's rose"

& a

"reserved"

sign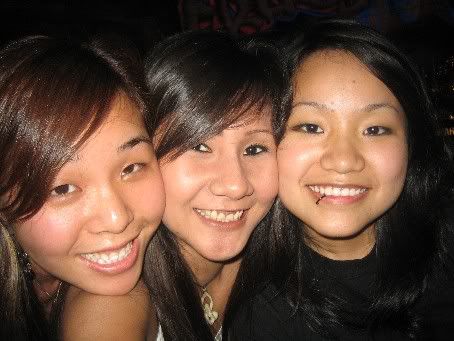 sue-lynn the sister-in-law & me & keshia

break out the smilies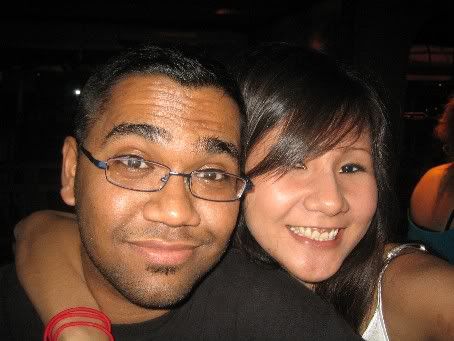 me & wayne

-

black and white mamas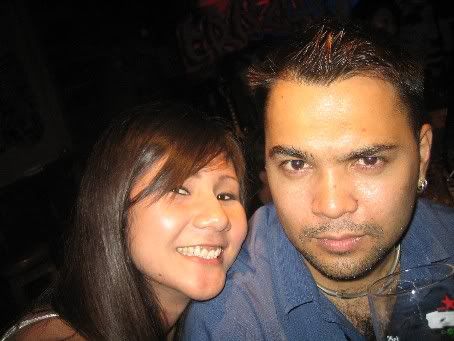 me & shilton

- in one of the rare photos where he's

not makin a face

at the camera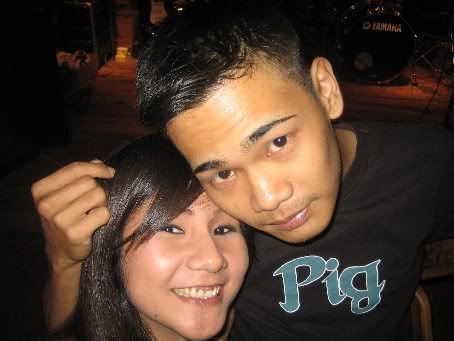 me & scotty

boy strike a pose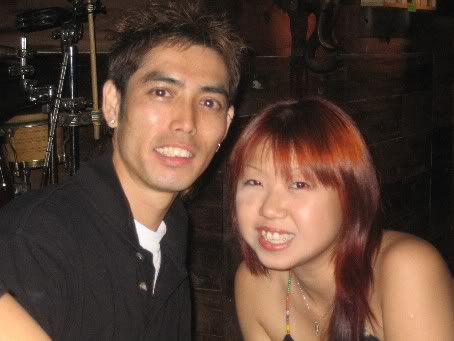 ernest & friend

get in the act too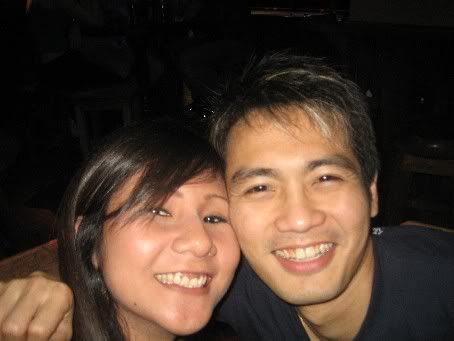 one for the

"best friends" album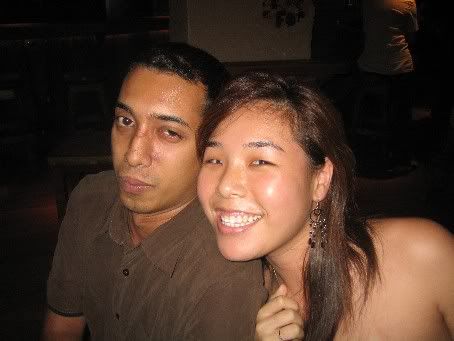 trev & sue-lynn

say "cheeeeeeese"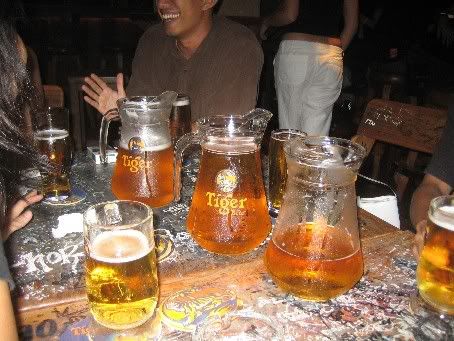 my favourite friends make a brief appearance - before disappearing down people's throats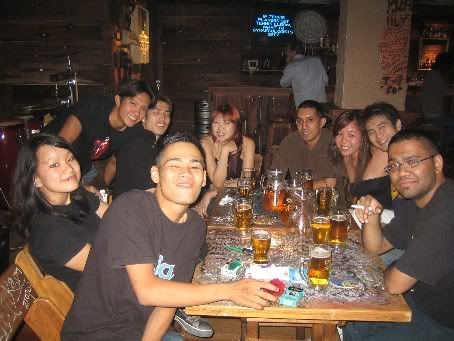 the semi-group photo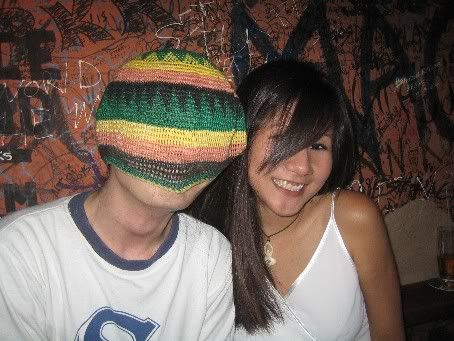 boys and girls, its time to play :

guess the mystery man!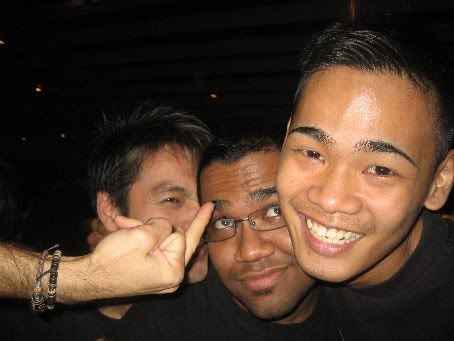 scott

smiles as

wayne

enjoys

getting his ear licked

by

brandon

- cameo appearance by

"shilton's middle finger"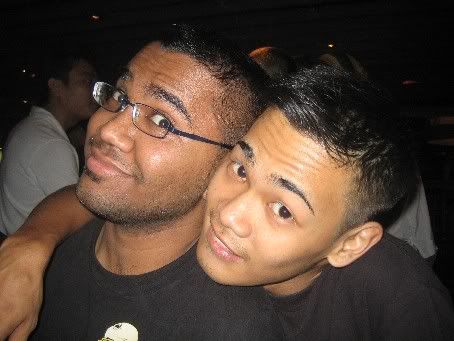 the best friends share the "lurve"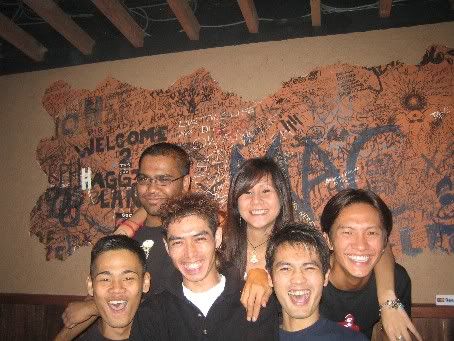 the brothers NG + the cousin NG + the other cousin + the 2 adopted NGs - i have no idea why both the brothers NG are

opening their mouths so damn wide

. hmm.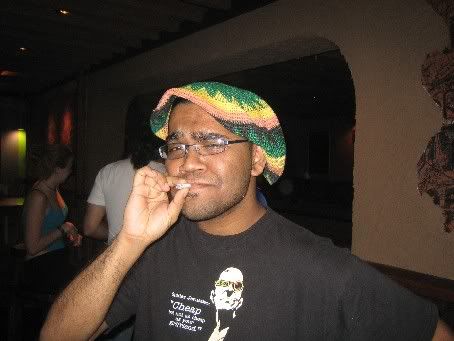 wayne

contemplates

running away to jamaica

with the colourul headgear in tow





scott

wants to

bang the drums

and

rule the world

- but first he must learn how to play those damn drums.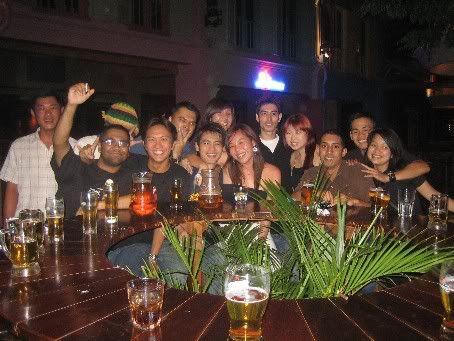 the group photo that features most of us that were at crazy elephant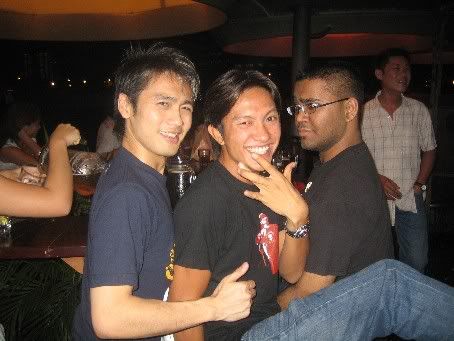 ok. this just looks

WRONG!

and don't ask me what they're doing. i have absolutely no clue!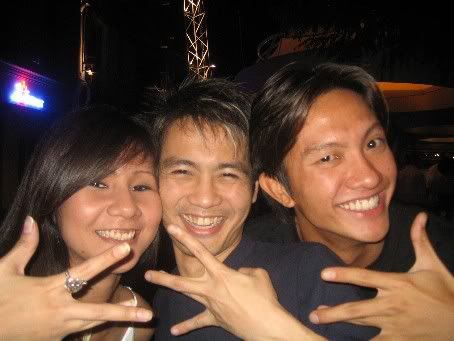 me, brandon & jon

attempt to get in tough with our

"hiphop-ness"

but end up displaying

"retarded-ness"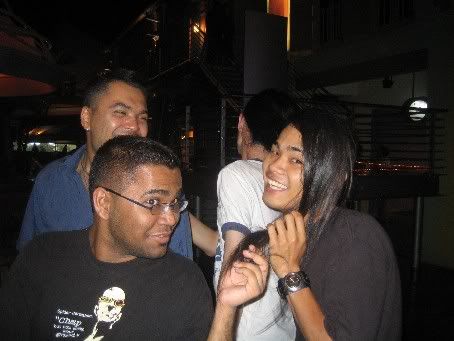 scott :

"do you like my long, silky hair?"


wayne : "oooh! can i touch?"
vic :

"dudes! gimme my hair back!"


shilton :

"crazy kooks. haha!"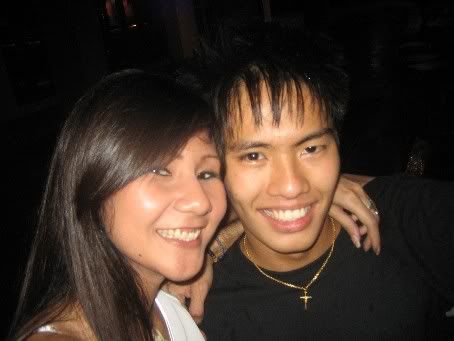 me & eugene

- the

little drummer boy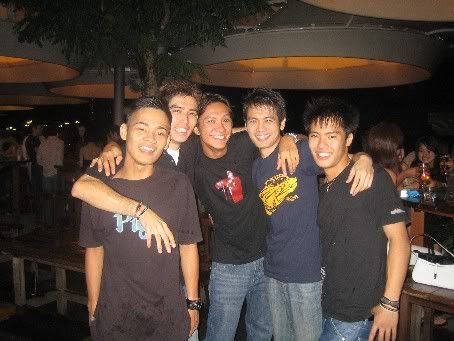 family portrait
- brothers NG #1 + brothers NG #2 + cousin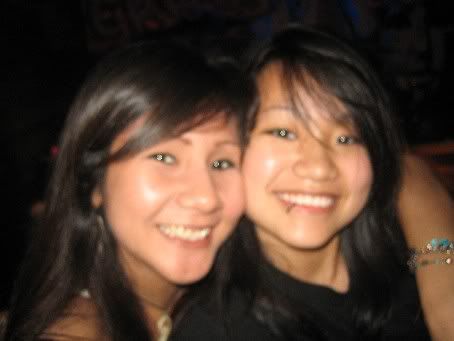 me & keshia

with our

coordinated hair partings

- one go left, one go right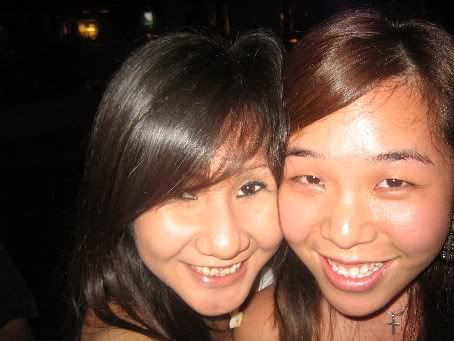 me & the sister-in-law

display our

cheekbones



*****

of course, O BAR @ MOHD SULTAN has to come in somewhere..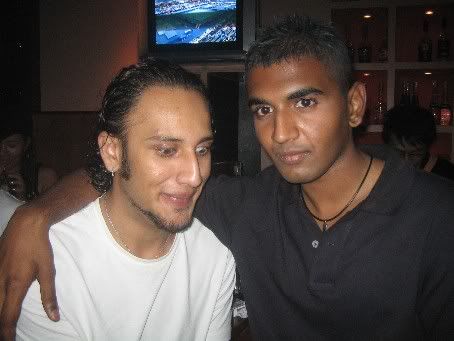 i wonder why is

sukh

staring, so intrigued, in

that direction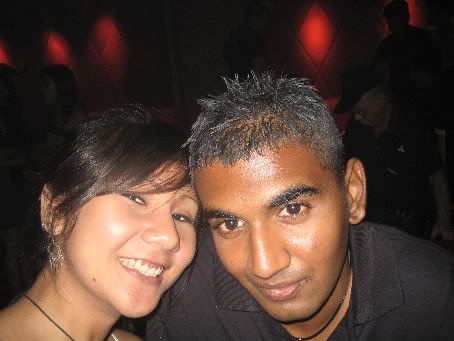 me & jem

- i stole jem's

lucky lighter

and the very next day he ran into

bad luck

. oops! but you still ain't gettin it back, jem! ha!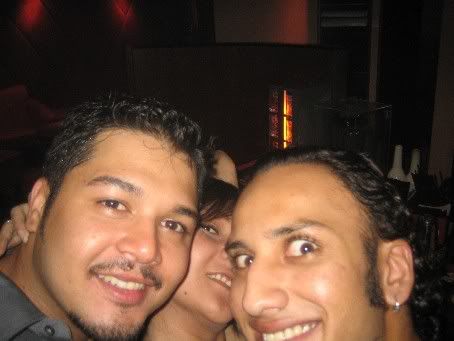 the

"let's block eileen out of this shot"

sandwich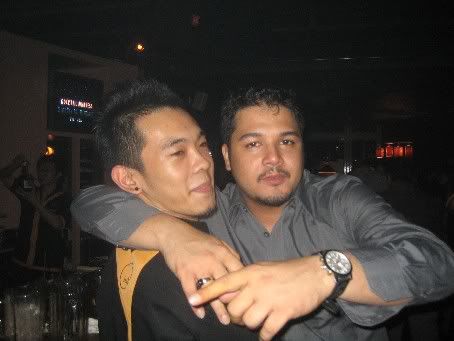 the

poor waiter

was accosted and had to run away to avoid being kissed - also known as

"alcohol makes you do crazy things"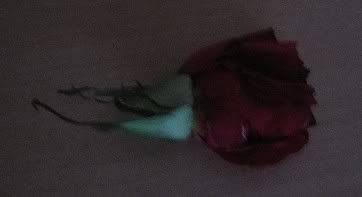 remember

"eileen's rose"

from the earlier photos?

well, by the end of the night,

this was all that remained of it

.

kena overworked until it cannot take it anymore and literally falls apart. *sobsob*

*****

alcohol, good music, dancing, friends, and laughs make

THE EILEEN

happy.