Monday, July 11, 2005
THINGS that make me go "BOOM ; HEE ; AWW ; GAH"
snippets from the past few days in my life..

*****
THINGS THAT PISS ME OFF/MAKE ME SAD :
1) power outtages while i am halfway blogging
this entry was actually supposed to have been posted on monday evening. painstakingly typed out. all that effort, time, energy.
and then. BAM! no more power. computer kaput. goodbye blog post. which made me very frustrated, very angry, very grouchy, very upset.
in short, i looked like that guy in the cartoon. except i think i was even more du lan than him. KNNBCCB.
2) people snatching my taxis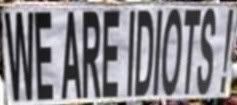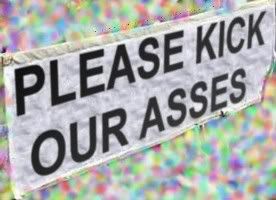 i think they should make it compulsory for taxi-stealing asswipes to wear these signs - you know, like the bright yellow vest people have to wear when they're caught littering.
monday night
, i was waiting for a taxi by the roadside near my place. i was carrying a
humungous bag
on my frail, about-to-freaking-break shoulders. inside the bag was countless items that weighed
a shitload of heavy
. besides this elephant-ile burden on my fragile frame, i was also carrying a couple of comics, and the
FULL-COMPLETE-SET-OF-STORIES "hitchhikers guide to the galaxy"
.
all this made my shoulders, arms, my entire freaking body ache. i thought i was going to crumble to dust under the immense load.
never mind. i bravely bore the weight and tried to hail a cab.
I WAS WAITING FOR FREAKING BLOODY HELL
20 GODDAMNED MINUTES
CARRYING AN IMMENSE WEIGHT BEFORE I COULD GET A CAB.
normally, if i were because there really were
NO CABS
, i would be
irritated
. but just irritated.
last night, i was so freaking bloody
pissed off
that i wanted to goddamned bloody hell
murder
people. i wanted to
kick them
so hard their asses would have landed on the bloody moon. i wished i had an
umbrella
with me so that i could have
poked
the hell outta them and
stabbed
them to death.
why? why? why?! because,
a) there were no cabs. few and far between.
b) my bag very heavy. shoulder breaking. back about to snap.
c) already so difficult to wait for an empty cab to appear, then bloody hell PEOPLE COME AND STEAL MY BLOODY CABS
KNNBCCB.
first, it was
one stupid guy
who stood innocently on the pavement. i thought he was just waiting to cross the road or something. BUT NO! he jumped out at the last moment and SNATCHED MY TAXI!
then, it was the
two china women
who blatantly stood in front of me and tried to hail a cab. even after i tried to kill them with my evil eye, they refused to back off. so i walked till i was standing right behind them, and proceeded to bitch about them LOUDLY AND DIRECTLY to wayne
(who i was on the phone with.)
eventually, they crossed the road. probably to get away from me. because i told wayne i was gonna kick them.
(i also cursed them - the taxi they got on would get a punctured tyre in the middle of the expressway, and the driver would leave the meter running while he changed the tyre.)

the third time, was the last straw. the
indian lady and her daughter
tried to snatch a cab from RIGHT UNDER MY NOSE. i snapped.
i walked up to them and said
"excuse me. i've been waiting here for very long already. do you mind, i take this taxi first."
and then i just got on the cab.
the look of shock on their faces, i tell you. and the indian woman actually backed away from me, like she was afraid i was really gonna kick her.
fine, maybe i was looking particularly murderous. and my tone of voice betrayed my anger. but hey, what the hell you expect me to freaking do?!
and you know what?
I DON'T BLOODY CARE! AND YOU CAN THANK YOU LUCKY STARS AND WHICHEVER GOD IT IS THAT YOU PRAY TO THAT I, AT LEAST, HAD THE SELF RESTRAINT, DECENCY, COURTESY, CONSIDERATION, OR WHATEVER TO TALK NICELY TO YOU INSTEAD OF HURLING VULGARITIES OR SCREAMING AT YOU OR KICKING YOUR ASS THREE WAYS TO THE MOON!!

WHICH I SO WANTED TO DO AND HAD HALF A MIND TO DO. BUT I'M A CIVILISED PERSON. UNLIKE ALL YOU FREAKING BLOODY BARBARIANS.
besides,
assault and abuse are offences
. and i ain't gettin myself in trouble just because of worthless scum like you.
3) places that are too bloody smoky and with bad ventilation

saturday night
, we ended up at this place that i forget what its called, and i was in such agony that i literally felt like gouging my pretty little eyes out.
it was so goddamned smoky, the air was so bloody dry. my poor eyes were in pain! such pain. akin to
the-kind-of-torture-they-dish-out-in-hell
pain.
close eyes, pain. open eyes, pain. wash eyes, stil pain.
and i ask you. what kind of goons would only turn on the ventilator AFTER CLOSING WHEN THE CROWD HAS ALREADY LEFT?!
idiots.
4) bedroom aircon spoilt


no aircon for the past few days. i am very hot. very freaking hot.
which makes me cranky. and irritable. and very sweaty. and very sticky. gives me a headache. not good at all.
the carrier guys came today, but they couldn't fix it. KNNBCCB. they're coming back tomorrow. and they better bloody hell pray they are able to fix it if not i'll kick their asses three ways to the moon and back.
i cannot sleep. very hot. i am dying.
5) trying to talk "serious issues" with drunk/high person
the next time, remind me to indulge in more productive pursuits - like banging my head against a wall - rather than try to talk sense to drunkards.
saying that trying to have a serious conversation with a drunkard is frustrating is a serious
understatement
. frustration doesn't even come close to the agony it really is.
especially when the drunkard in question insists on trying to tickle you, tell you stupid jokes, laughing like a complete fool -
in an attempt to make you laugh
.
especially when the drunkard in question
keeps changing subjects
to assinine topics that make absolutely no sense whatsoever.
especially when the drunkard in question keeps
drifting in and out of consciousness
.
i give up.
6) the stupidity of the human race
terrorism. bombings. wars. genocide. famine. all the ills of the world.
london. new york. africa. iraq. afghanistan. and more.
zealots. fanatics. madmen. dictators. tyrants. pompous shitheads. everyone.
7/7. 9/11. live 8. so on, so forth.
the world is a sad, sad place. humans evolving into evil incarnates.
we tell ourselves we are moving forward. in truth, we are moving so far backwards, even cavemen are more civilised than us.
THINGS THAT MAKE ME SMILE/LAUGH/HAPPY :
1) silly people and silliness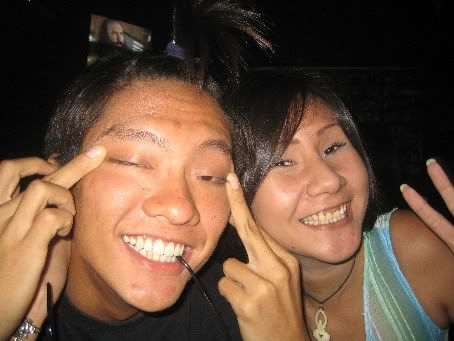 me and jon act like retards. ACT ONLY HOR! *grumble*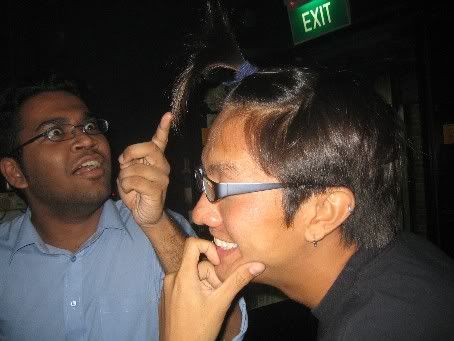 wayne is shocked by the abomination that has hijacked jon's hair.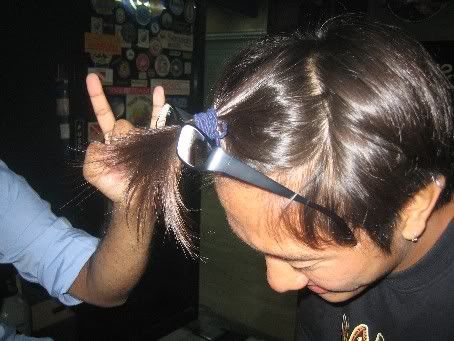 we did all this in the middle of tattoo pub, in far east, on a friday night, in front of lots of people.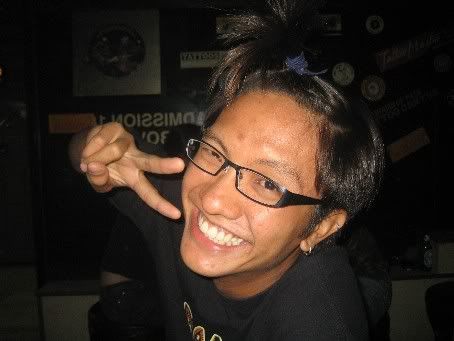 presenting : the ugliest shampoo advertisement EVER! heh.
more photos here
2) alcohol and partying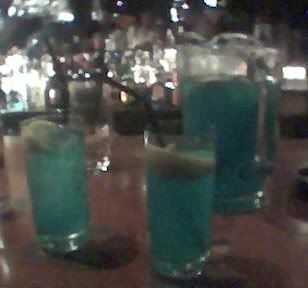 "long island tea now comes in an array of colours to suit you! match your mood, your outfits, or just go with the flow!"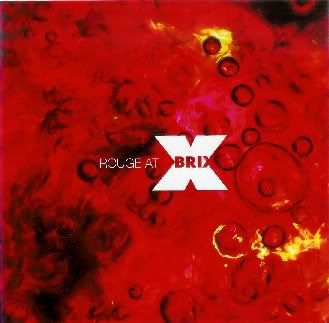 i love this flyer. so vibrant and eye catching.
saturday night
- me, jaz, jai and adrianna - went a-boozing. after waiting for 15 minutes outside
o bar
, which was packed to the brim and queued till the road, we decided to hottail it to
brix at hyatt
instead.
its a really nice place. the band is awesome. the music is cool. pretty alright crowd, considering the
"reputation"
it has.
and the long island tea - my god!
this is what happens when the bartender is a friend. you get
BLUE colour long island tea
that is
3/4 long island and 1/4 tea
. and of course i know that there isn't actually any tea in LIT. its just a phrase, oh-kay?! sheesh.
anyway. killer drinks. which i couldn't stomach. ugh.
i hate LIT.
*gags*
3) the affections and devotion of a doggy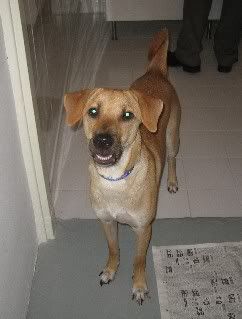 if only i could inspire this kinda devotion and love in human beings. sigh.

4) funny tales and stories of days-long-gone

the things some people get up to in their youth - crazy ass shite, i tell you.

learning about silly things in people's past is so much fun. and provides much source for future blackmail material too. muahahaha!

we can look back now and laugh hysterically at our memories, but once upon a time they were real and very frightening. ah, how we have grown.

5) hugs and kisses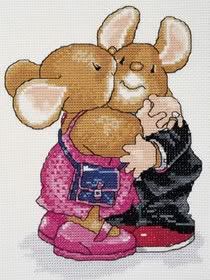 i don't just mean from your boyfriends or girlfriends or spouses or lovers or partners or whatever.

i mean even those from your family, friends, acquaintances..

even some strangers (especially when you're half drunk / your favourite team or player has just won / its christmas / its new year / etc)!

i love hugs. i love kisses. i love affection. but only from the right people, of course.

eh, i don't go around kissing and hugging every tom, dick or harry oh-kay.

must have disclaimer. if not people say i immoral or loose or slutty or cheap or what-have-you. sheesh.

6) the resilience of the human spirit

we bounce back from adversity. we stare it in the face. we don't back down. we stand up, no matter how many times we fall.

in the light of the recent bombings in london, it is refreshing and encouraging to see how the people of london are taking it all in their stride.


quotes about the bombings

- some of these quotes are downright hilarious. tragedy or not, there's just no stopping the acerbic wit of the brits.



london hurts

- i especially love this one.



we're not afraid

- from all over the world, they come, to spread one message.
THINGS THAT MAKE ME WARM & FUZZY & MUSHY & SAPPY :
1) being woken up in the morning to a suprise after going to bed majorly pissed off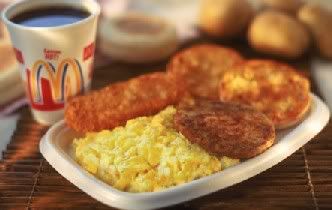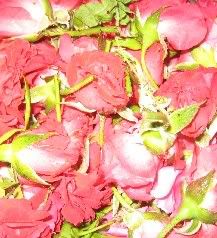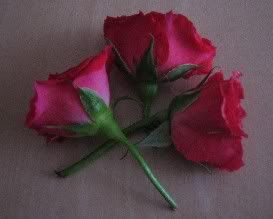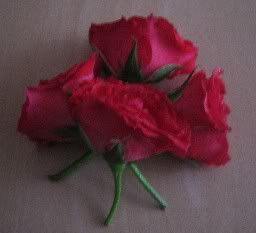 mcdonald's breakfast and flowers - does the trick everytime. heh.
mcdonalds big breakfast to make up for me not getting my cheeseburger and fries the night before, and flowers to appease me.
definitely a good sunday morning to wake up to :)
THINGS THAT MAKE ME EXASPERATED, YET MAKE ME LAUGH :
1) flowers in a plastic bag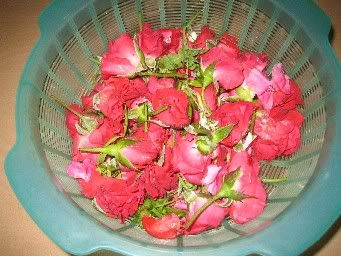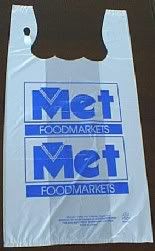 my flowers came "specially" packaged - in a orange plastic bag.
yes, the kind of plastic bag shown in the picture. mine didn't even have wordings on it. just plain orange see-through cheapskate bag. bah.
and why are my flowers dumped unceremoniously
in a basket
, you ask?
because - the genius got them to
cut the stems off
. because - he
don't like
. because - got
thorns
.
wah lan. like that also can.
doofus of the century.2) goofy apologies

"do you know why you pissed me off?"
"because i'm an idiot. that you happen to love. and don't pretend that you don't love me."
i don't know whether to laugh, or slap you silly. how to stay angry like that?! heh.
3) stealing the most important part of my breakfast
i love my hashbrowns. i love my french fries. i love my potatoes!
i forgive you for buying me a
big breakfast
, which i don't like
(because i don't eat the eggs.)

i forgive you for not knowing that my favourite mcdonalds breakfast is the
sausage mcmuffin
.
but i'm very angry you
stole my hashbrown
! hmph :p
"what happened to the hashbrown?!"
"oh. i ate it on the way here. i'm sorry. i was hungry."
potato thief.
hmph. pfft.