Monday, June 20, 2005
father's day + ryan the dog
yesterday was
father's day
. i bought my daddy a
walnut brownie cake
from a neighbourhood bakery. cannot afford high class cakes lah. so must make do. eh, its the thought that counts, right?! but it turned out to be quite delicious, so its all good. heh.
my younger sis made a
card
using our trusty computer, which all 3 of us kids signed, to present to daddy together with the cake.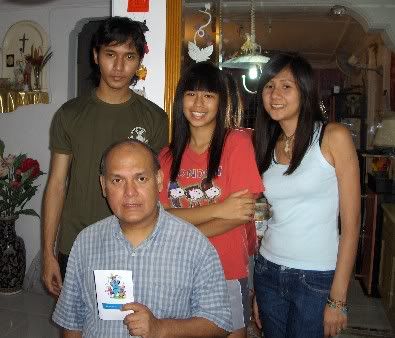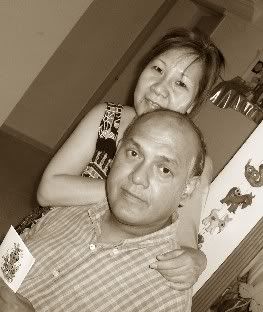 1) daddy and the 3 kids - younger bro, younger sis, me.

my brother is damn tall, right? even my sis is tall, for a 16 year old. i used to feel that i'm taller than average, but now i feel like a short-ass. hmph.

oh, and excuse my stoned face. very tired. no make up. lighting not good. camera angle unflattering. FINE LAH! its all excuses lah. i'm U-G-L-Y. bah!

2) daddy and mummy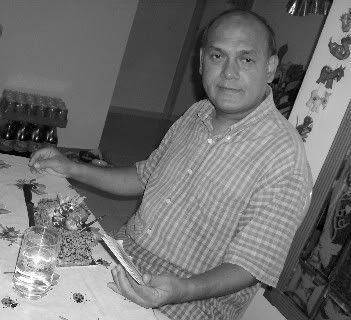 daddy with his cake and card - happy fathers day, daddy :)
oh, i also went over to
wayne's
yesterday afternoon to bum around. we watched
"edward scissorhands"
again. i like. so touching. and no,
i did not cry
oh-kay. bloody hell! bleh.
and wayne has been letting
his dog, ryan,
watch too much
porno
. tsk. i got groped, licked, sniffed.. and ryan knows his stuff, man. went straight for the breasts, this dog. tsk.
cute dog. but still.
WAYNE! stop letting ryan watch those pornos with you!

and yes, at least now you know your dog's
not gay
. heh.