Wednesday, May 25, 2005
we going to istanbul to conquer yo ass!
a quick note before i pop out for my standard wednesday night boozing session. ladies night! free flows, come to mama! o bar, here comes the
queen of alcoholism
! woot!
*****

tonight's the night, ladies and gents! we shall royally whoop ass and leave destruction in our wake as we trash ac milan and lift the champions league trophy!

LIVERPOOL LIVERPOOL LIVERPOOL!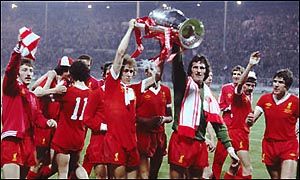 hopefully, the scene will be like this, and not the other way around.

start praying, all you reds fans. if not i'm gonna come over there and whoop yo ass so bad you gonna freakin fly to the moon. heh.



you'll never walk alone!



*****
right.
my alcohol awaits!
cya guys tomorrow, i'm outta here.