Thursday, May 26, 2005
all hail the kings of europe!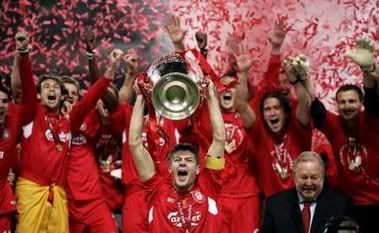 yes, i wore a red top to show my allegiance.
yes, i proclaimed we would be victors to all and sundry
(and received plenty of snorts from disbelievers.)
yes, i panicked during the first half.
yes, i cursed and sweared a shitload.
yes, i never stopped believing in them.
yes, i nearly fainted with joy during the second half.
yes, i bit my nails anxiously during extra time.
yes, i got down on my hands and knees during the penalty shootout.
yes, i made the sign of the cross and i prayed.
yes, i nearly suffered a heart attack from the suspense.
yes, i screamed and whooped in jubilation at the end.
yes, i was jumping up and down and all around like a deranged monkey.
yes, i was grinning wider than the freaking cheshire cat.
yes, i cried
(discreetly, of course. watching with a bunch of guys means they would have laughed their asses off at my display of emotions.)
yes, my heart swelled with immense pride and joy at the sight of stevie g lifting the cup.
yes. i am a happy happy camper today. because we did it. we actually did it.
defying all odds. staging the greatest comeback ever in the history of european cup finals. hell, the greatest comeback in the history of soccer!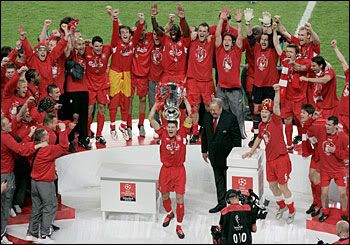 hail STEVIE G - the most awesome captain, the driving force, the inspiration
hail JAMIE CARRAGHER - the under-rated but oh-so-spectacular
hail VLAD SMICER - who gave his all in possibly his last game for pool
hail XABI ALONSO - who had his penalty saved but had the prescence of mind to drive the rebound into the back of the net
hail DIDI HAMANN - who came on in the second half and whooped ass
hail RAFA BENITEZ - miracle performer and most freaking awesome coach
hail all the players - for working their butts off, for giving their all, and for never giving up
and most importantly,
hail JERZY DUDEK - goalkeeper extraordinaire and man of the hour
though this season has been full of cock-ups, you proved your mettle and played a vital part in one of our greatest victories ever.
from being "DUDUK one corner"
(sit down one corner)
in the first half, you produced some magnificent saves in the second half to prove why you are worthy of being liverpool's #1.
you danced and wiggled your way to be the king of the penalty box
(even though you looked bloody ridiculous and completely retarded. but hey, whatever works!)
for your performance last night, i salute you.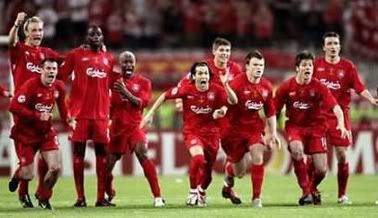 i salute each and every one of you.
thank you for bringing the cup home.

thank you for giving me a night to remember.

we went to istanbul to kick ass, and boy, did we kick us some major ass. big time.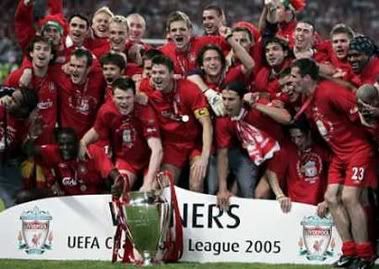 its been a long time coming, but we are truly the champions now.
you'll never walk alone!
but dudes. what was up with riise's funky hat?!