Friday, April 01, 2005
welcome home, brandon!
picking up the
best friend
from the airport on
tuesday night
turned out to be a bigger affair than i thought it would be. but it was hilarious fun!
i was supposed to get there at 7.30pm but as usual, i got there late at 7.45pm
(eh, this time not my fault. PIE got huge jam!)

when i arrived, i expected to see val and the kids, maybe scott and trev, and probably bran's mum.
wah. was i wrong.
entourage
, man.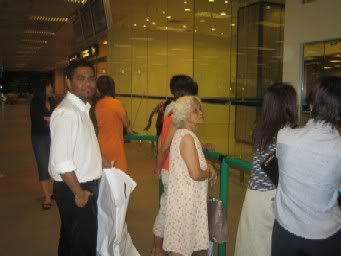 bran's
mum
-
auntie joyce
.
bran's
grandma
-
nanny
.
bran's
godma
-
auntie jean
.
bran's
aunt
-
auntie kat
.
bran's
sister
-
val
.
bran's
brother
-
scott
.
bran's
godson
(val's elder boy) -
timmy
.
bran's
nephew
(val's younger boy) -
ethan
.
bran's
cousin
(auntie kat's daughter) -
belinda
.
bran's
cousin
(auntie kat's son) -
adam
.
bran's
friend
(scott's bestie) -
wayne
.
bran's
friend
-
trevor
.
and of course, there was
me
- bran's
best friend / sister / friend-of-family
.
13 people

to pick up

one small fella

. heh.
and val wanted to embarrass the bee, so she made a
huge sign
to hold up. it was frickin BIG. she printed out
"welcome home bran"
-
ONE letter on ONE A4 paper
and glued it all together.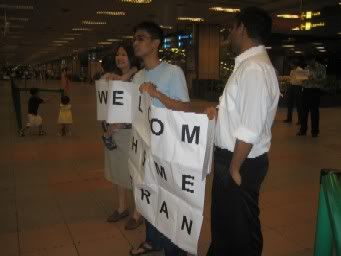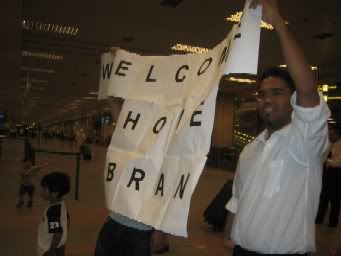 when the bee came out, they started
chanting
his name -
"ah bee ah bee ah bee"
, like he was an idol or something, and
askin for his autograph
and i think val was hollering
"wo men yong yuan zhi chi ni"
which means "we will always support you" and is a typical cry you hear from young kids screamin at their idols.
and the bee's face was
priceless
. it was all so funny and yet so sweet. awwww.
then us friends decided to head to hups for a drink cos the bee said he really missed the place, so off we went, after i made a trip to popeye's to ta-pao chicken and biscuits for my mummy.
poor bran didn't really like brisbane all that much. which i really find extremely hard to understand cos i adore oz. but at least his purpose this trip was just to go see sue, which he did and that part of the holiday he enjoyed immensely. heh.
some highlights of the bee's trip
(the bits that i remember in my brain-dead state)
:
- seeing APU of KWIK-EE MART from the simpsons in real life

- gettin checked at the brisbane airport on the flight up, where they got him to empty out his bag (so poor thing. the bee's convinced its discrimination of some sort.)

- gettin checked at brisbane airport on the flight back, for explosives (maybe they thought he was a vietnamese gangsta? the bee looks pretty ah beng. hmm.)

- gettin "bullied" by the ozzies

- gettin "ka chiao-ed" by some oz guys in a car on the way back from the 7-11 (they were callin him TOM CRUISE. bwahahaha!)

- makin a trip into town only to find everythin closed cos it was easter
can't remember the rest of the stuff he said. was too tired. bleh.
its good to have you home, bro. i missed ya. :)