Wednesday, April 13, 2005
too many photographs
very long overdue -
easter weekend
happenins...
*****
thursday - 24 March 05

:
balaclava @ suntec with my darlin joy
i adore hangin out with joy. she's my sweetheart! i love you, dear! god, i sound like a lesbo. meh.
men bashin. gossip. catchin up.
hoegarden rocks my ding dongs!
cam-whores. high on 2 pints
(pathetic)
no eye candy!
(so sad. sigh)
joy claims that i've lost so much weight in the one month she hasn't seen me, that i look
emanciated
now. got meh?? too much drinkin, not enough food, even less sleep. heh.
must always remember :
"men. they're either ugly, or they're bastards."
oh, how the truth hurts. sigh.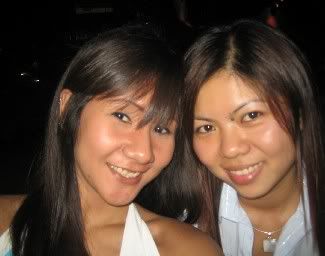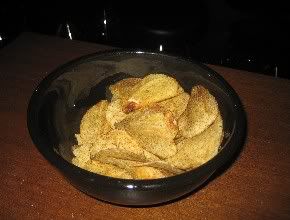 and can you believe they actually charged
freakin $6
for that measly bowl of
black pepper potato chips
?! wah lau. they charge the same amount for a basket of fries! terrible. tsk.
and i would have ordered the fries but the damn kitchen was closed and i was too hungry
(and intoxicated.)
to bother so i just took whatever they could offer me - a $6 bowl of chips. bah!
*
PHOTO ALBUM
*
friday - 25 March 05

:
night out with huilam and his sydney pals - james & marge
zion road
hawker for local fare
(stingray, sotong, char kway teow, ice kachang, etc)
altivo @ mount faber
for the fabulous view (
and expensive drinks - but they make up for the price by bein stronger than normal lah)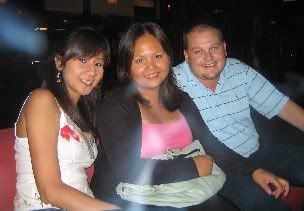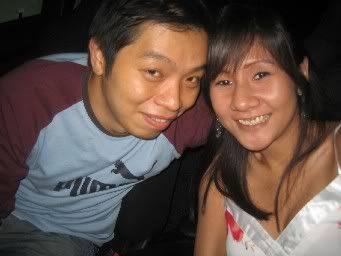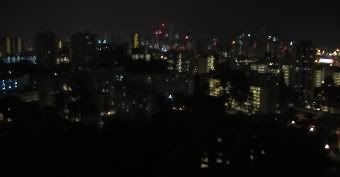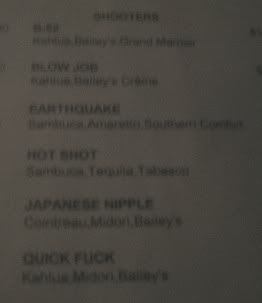 (1) awesome view from mount faber. twinkle twinkle city lights!

(2) oh, how i love the drinks list at altivo. cracks me up everytime - blow job, japanese nipple, quick fuck, deep throat, die cock standing.. bwahahaha!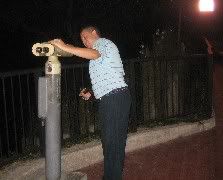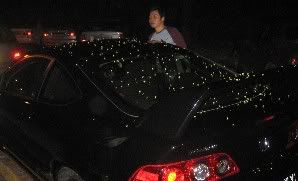 (1) we got cheated by the viewin telescope thingys. we put in money but couldnt see jack shite! grrrr.

(2) huilam's flower car! boys and girls, don't park under flowerin trees, a'ite? see what happens. and there was flower sap all over the car so we had to go for a car wash (at 4am) to get it all off. sigh.
dropped james and marge back at orchard parade hotel, then me and HL hit
liquid room
!
saw people from st. mike's church at liquid. smokin and gettin stoned drunk. my my. shockin! how my mother would disapprove! heh.
got caught in a
road block
around newton on the way back. horrible! traffic was backed up all the way - it was like the freakin
causeway jam
, man. no trouble though. didn't get stopped. prob cos the road was so clogged they had to hurry up and get the cars through and clear the jam.
*
PHOTO ALBUM
*
saturday - 26 March 05

:
cousin's baptism & easter mass + hazey's birthday @ wow + night out with fique, kim & gang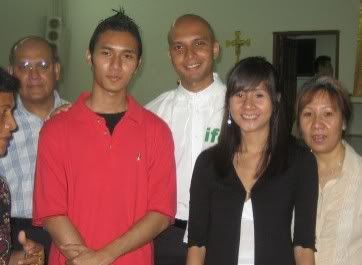 spent
3+ hours in church
! wah lau. kena bluff by my mother. she told me it would be about an hour to an hour and a half, maximum. bleh.
me eldest cuzzie is now me
god brother
as well, seein as how my parents are now his god parents. and now me mummy is naggin me to hurry up and get baptised as well. sigh. yeah yeah yeah.
they made me
camera monkey
for the baptism. so embarrass-ment. had to act all
sookoo-baba
and behave like
japanese tourist
:
take pee-chur take pee-chur!
gah.
*
PHOTO ALBUM
*
rushed down to
wow at boat quay
for my darlin sister
haze's birthday
bash. got there at 11.30ish. she was already drunk-ed. aiyoh!
wonderful to see the wow peeps again -
haze, maine, steph, frankie, felicia, niki
... didnt take me long to get smashed as well. drinkin beer like it was water -
"cheers! half! cheers! half! cheers! half!"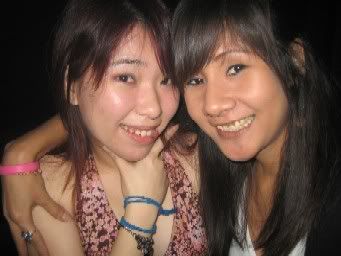 had to drink on birthday girl's behalf too, cos she was too bloody gone. vodka vanilla 7up. and a couple of shots on the rocks. gross. oh well, as long as my mei mei was happy. hee.
*
PHOTO ALBUM
*
escaped the drunkards at wow around 2am. headed to meet
fique and friends
at this cool place along tanjong pagar -
eski bar
(its so cold! the interior is FROZEN. people wear winter coats inside. heh. power.)
left after awhile. kristian and mel went home. me, fique, kim, melvin and jaz adjourned to
o bar
. drink drink drink. saw trev's friend, andrew, there. as well as an old old ex-boyfriend of mine, jack. aiyoh. got drunk-ed.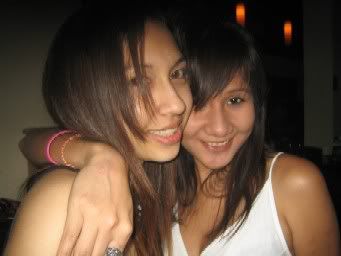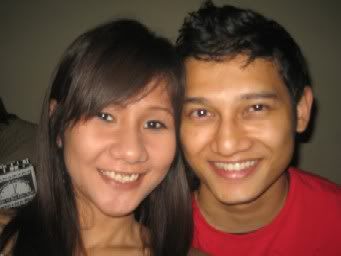 me and kim : me and fique (drunk-ed and freakin tired as hell.)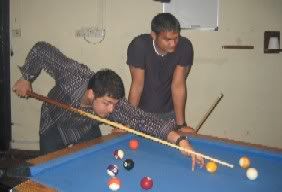 jaz and melvin = pool sharkies!
then it was off to
around midnight
at cuppage. met another old friend, cynthia. sobered up. fique sent kim home before joinin us at
bedroom in boat quay
for even more drinks. sun was up when we left. i think it was around
9am
. ugh. completely smashed outta my skull.
*
PHOTO ALBUM
*
sunday - 27 March 05

:
home. major ass hangover. bitch of a headache. ugh.
***** fast forward one week of sloggin at work *****
friday - 1 April 05

:
ice cold beer with jon & steph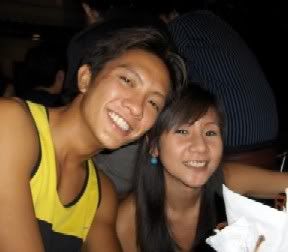 beer, food, good company, great laughs, conversation, chillin out - what more can you ask for?


*
PHOTO ALBUM
*
(thanks steph!)