Saturday, April 30, 2005
a high price to pay for a fun night out
wednesday
night, i was havin a blast. until the end of the night, when
THE INCIDENT
happened. grrr.
the story begins around 7pm, when i met joy at suntec's balaclava, for our soon-becomin-weekly-ritual of happy hour hoegardens and
men-bashin
female-talk session.
so there we were, happily drinkin, at the bar outside
(since inside got no space)
when suddenly.. this
super hot and totally gorgeous guy
stands at the bar, directly opposite us.
OH MY GOD
. i practically faint with excitement. its
UTT
! that VJ from MTV!
let me tell you. this guy, is
HOT HOT HOT HOT HOT
. i was droolin. i spent the entire night grabbin joy's hand and sayin
"he is so hot!"
.. very embarassin, yes, but he really is
GORGEOUS
.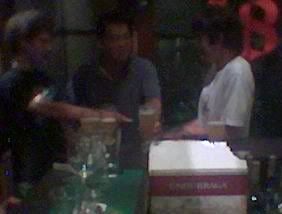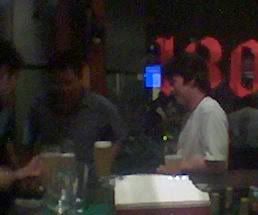 UTT is the one in white, on the right.

ya lah. i know lah. cannot really see lah. eh, i was tryin my best to SECRETLY take a photo of him while pretendin to play with my phone, oh-kay!
this is the best already! take photo of him full on, when he's facin me, then he sure know i'm takin of him, right?! liddat so pai seh! i scared malu, leh..
but trust me. it WAS him. definitely. 100% chop-stamp-guarantee-with-money-back-refund.
somewhere along the way, trevor came down to join us, and UTT and gang moved to a table directly behind us.
joy kept eggin me on, tellin me to go up and talk to him. so, when i finally am
intoxicated enough
to throw caution to the wind, and actually go up and talk to him, guess what i asked him..
i went up to him, said hi, then said "you're really hot, but are you gay?"

OH MY GOD!
what was i thinkin!! i still cant believe i did that!! freakin
pai seh
! what kinda openin line is THAT??
i blame trevor, by the way, for poisonin my mind and causin me to ask that question. bleh.
of course, UTT says
"no!"
and i go
"alright."
and i turn around.
later, i realise how
stupid
it must have seemed, so i try to redeem myself goin up to him again, on the pretext of clinkin glasses with them, and i apologise to UTT
"sorry about that. its just that some of my friends think you're gay."
and he graciously goes, smilin brightly,
"no problem. alot of people think that."

DOH!! i feel like such a complete
CUCKOO
.. sigh.. foot in mouth syndrome strikes again. aiyoh!
after awhile, UTT and gang leave and me, joy and trev depart for o bar for more drinks.
the rest of the night passed in quite a blur.
o bar, joy left, me and trev went to liquidroom to meet huilam, jaz came, me, trev and jaz went back to o bar..
i was
verily drunken
. i know i had 3 pints of hoegarden, 1 flamin lamborghini, at least 2 tequila shots, and some other drinks. i cant remember.
and then. THEN. at the end of everything, we left the club at closin time. and i realised my bag wasnt with me.
so this girl that was with us, but i dont know who she is, i think a friend of a friend, says
"oh, i think i know where ur bag is."
and she goes off and gets my bag from someone.
when i get my bag back, jaz tells me to check my wallet. and i do. only to find that
the $600 i had inside was GONE
NABEH! KNN! no amount of cursin and swearin can mirror accurately my feelins.
we try to find out who has taken my money, but of course, its too late. so we make a report with the policemen who are stationed at mohd sultan, and thats that.
i know there's no way i'm gettin my money back. i'm resigned to that fact. it just feels damn
farked up
.
especially since that money was supposed to be put towards payin my bills, and so now i am
royally screwed
for the rest of the month.
flat out brokers.
yes, i know its
my own fault
. i shouldnt have been carryin that much cash with me
(my reason is that i was in a rush and there was no bank nearby, so i was goin to pop into the bank first thing the next mornin to deposit the money.)
i shouldnt have gotten so drunk till the point where i couldnt take care of my own things. i shouldnt have left my bag on the table, with my wallet in it, in full sight of every tom, dick or thief.
but still.
A PLAGUE ON THE BLOODY (insert foulest description you can think of here) IDIOT(S) WHO TOOK MY HARD EARNED MONEY!! I HOPE YOU FREAKIN BURN IN HELL! I HOPE YOUR HANDS ROT AND DROP OFF! IF YOU USE MY MONEY TO BUY DRINKS, I HOPE YOU CHOKE ON THEM AND LAND UP IN HOSPITAL! IF YOU USE MY MONEY TO BUY THINGS, I HOPE THEY SOMEHOW GO HAYWIRE AND INJURE YOU! WHATEVER YOU USE MY MONEY FOR, I HOPE YOU SUFFER TEN-FOLD FOR IT! NABEH!
i've learned a lesson, but i'm very very very upset.