Friday, January 14, 2005
went to
BREWERKZ
(opposite clarke quay) on wednesday nite. we wanted to visit
ATTICA
, but they had a strict
"no slippers" dress code
. bah.
the
beer
at brewerkz is
mind boggling
. i couldnt decide what to order! too many! so we opted for the
TASTER SET
- small shot glasses of 8 different beers.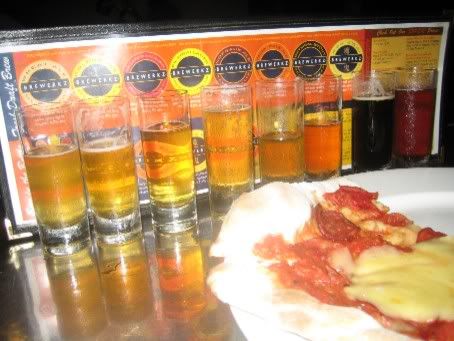 taster set + pepperoni pizza
the
WHEAT ALE
rocks. whatever you do,
DONT
order the
PILSNER
. it tastes like shit. blehh.
and how anybody can finish the entire pizza, the full 8 slices, by themselves is beyond me. its
huge
and so
cheesy
, which makes it
super filling
. but it was
attempted and accomplished
. i'm shocked at the
stomach capacity
of some people. heh.
add another jug of wheat ale and the total bill came up to $60. quite cheap for food and booze combo.
and, the conversation that night was

priceless

.
*grins*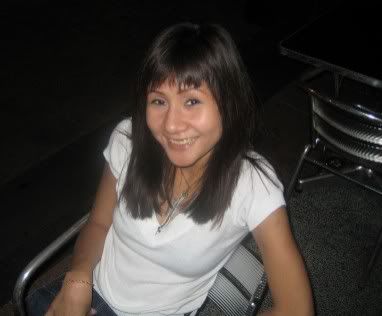 ME at brewerkz - not drunk yet.

i actually quite like this photo. hee.
********************
i've been having trouble sleeping these days. is it insomnia?
in.som.ni.a (n.)
Chronic inability to fall asleep or remain asleep for an adequate length of time.
yup. that's it. that's what ails me in recent times. ugh.

last nite, i was completely tired out by 11pm. my eyes were drooping and i was yawning like mad. but when i flopped onto my bed and tried to fall asleep..

instant awakening. bah. ended up staring at the walls till 3+, 4am before i could finally doze off.

and i've been having these extremely strange dreams! i shall not tell you all the (juicy) details, but they're so vivid and they feel so real. and when i wake up, i can remember the dreams, down to the tiny details. very weird indeed.

sigh. i need my precious sleep.