Monday, December 06, 2004
ZoukOut!
saturday nite was a whirlwind of activity. and my legs and arms and shoulders and back ache like hell now. desperately in need of a massage. ugh. how i regret not visiting the massage tents at zoukout like i was originally so tempted to!
anyhow.
saturday nite. janson gave me a lift down to wow, where we met up with eugene and nigel. had a drink or two. then it was off to taboo at tanjong pagar to load up on booze. cos it was free! bwahahahaha!
first time to taboo. so crowded! jam packed with eye candy! wow wow wow! when i first stepped in, i thought i was in paradise. so many males. in fact, i dont think i saw a single female, besides me, in the entire place! and all so wonderfully good looking and well dressed and such toned bodies.. heaven!
and then. realisation slowly sank in. and it hit me that i was actually in hell. becos these droolworthy hunks, were gay. argh! pure torture. sigh. well, according to nigel, not ALL are gay. most are, but there are some who are straight. but how to tell?! no time to sift through the mass of bodies pressed so tightly against each other to discern who is who which is which!!
so, after a sour apple 7up, hoegarden and sour apple shooter (all free! heh.) it was off we go!
drove into sentosa. had to park at the carpark at the entrance and catch a feeder bus to tanjong beach for the event. sophia and danz and another friend (whom i cant recall ever knowing her name) met us on the bus. as did gene's 2 other friends.
reached tanjong beach. walked in. bought tickets. queued at the entrance tent. got seperated from sophia and the girls. we were all bouncing by this time. NOT becos of the music or the excitement, mind you. we all needed the toilets! badly! heh.
finally get into the area around 1+. stages and lights and blaring music. the water is cordoned off with netting so no one will get drunk, jump in and drown or something. food tents, massage tent, VIP tents, drink tents, first aid tent, blah blah blah.
first stop, toilet. huge sigh of relief! popped by the velvet tent for the guys to say hi to some friends. decided to hang around the main arena. bumped into sophia and the girls again. dance dance dance!
timo maas was spinning. not bad! quite good. but all of us were waiting for PVD, who was scheduled for 4am. so late! how to tahan?!
in the end, by the time PVD came on around 4.30am, we were all so tired and hot and sian. adjourned to a quieter corner of the beach to chill.
PVD was good, as usual. pity we were all too bushed to fully appreciate. but i still prefer his CNY gig. maybe its the atmosphere. dunno. seemed different, somehow. hmm.
and lying on the cool sand, listening to PVD and gazing at the stars is actually pretty cool! although it meant sand all over my arms and legs and up my shorts and elsewhere. heh.
oh. and i met darren. and also eugene and akira. the guys i met at liquidroom a few months back. eugene is still good looking. or maybe it was the booze and the lights. haha! talking to them awhile. blah blah blah. nigel insists they are gay. blehh. whatever. doesnt make much difference to me now anyway. heh.
hang around till 6ish, waiting for janson to return with the car. piled into the car, set off to boat quay to drop gene off at his car, sent nigel home then it was home sweet home! got back around 7am, completely exhausted. collapsed in bed.
ah! it was a quite alrite nite, i guess. if only we werent so tired! sigh. but still, an experience. and at least i can say i've been to 2 PVD gigs in a year! hee. ;)


the proof of entry arm band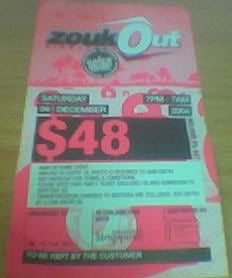 entry ticket. freaking 48 bucks! wtf.