Monday, December 27, 2004
xmas celebrations 2004
midnite mass with the family.

home for christmas supper and opening (more like ripping open and ravaging) presents under the tree.

the ng's place for christmas supper round #2 with auntie joyce, uncle vernon, val, brandon, sue-lynn and scott - with the 2 kids running around. exchanging of presents.

grapevine with bran, sue, scott, wayne, pete and trev. some alcohol. more exchanging of presents.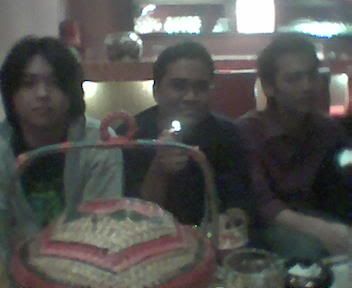 wayne tries to burn down the place with his puny lil lighter while pete looks on. brandon's trying to look nonchalant while praying wayne doesnt accidentally set his hair on fire with puny lighter.

bran : "hair wax is extremely flammable, dei!!"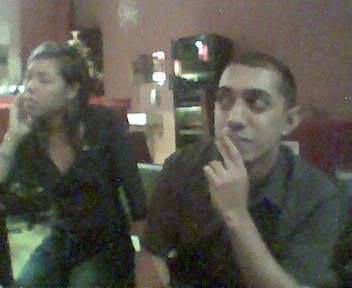 trev performs his signature (in)famous james bond impersonation.

sue : "oh god. he's doing it AGAIN! save me!" *groan*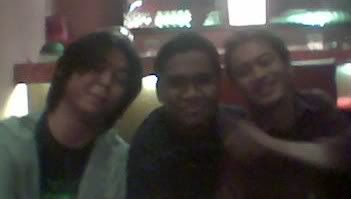 pete, wayne and brandon.

pete and bran were actually supposed to put their heads on wayne's shoulders for a "gay-ish" photo op. but, oh well...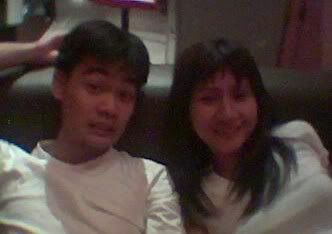 scott and me.

i have no idea why scott looks like a monkey in this photo. hmm.

scott : "alamak! why is she forcing me to take photo?! i just wanna go home and relak lah. sian."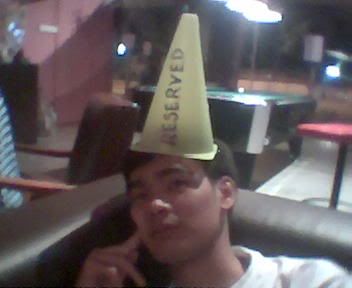 scott is "reserved". interesting. bwahahahaha.
home
for a (relatively) early nite at 5ish in the morning.
grandma's house
in the day on 25th with the
family and relatives
. cousins, uncles, aunties, etc. good food for lunch/dinner. exchanging of presents. silly cousin plays with new toy - video camera - and records me opening my presents. also attempts to film a sequence on my nose and nostril hair. bah. bum in front of tv. chat with various relatives.
spread at my grandma's - roast beef, devil's curry, soy sauce chicken, chicken sausages, veggies, and some crab dish. there was also ribs with floss garnishing but i didnt take a pic of that. oh, and that's my sister in the upper left corner, stuffing her face. smile, SAMMY! bwahahaha!
head to
the ng's
to meet
bran and scott
.
jon's place
for
christmas dinner
with
the ng's and their extended family. jon, steph, bran, scott, haresh + gf, dan, wayne, sue, and others.
turkey is good. turkey sauce courtesy of steph's mum is awesome! exchange presents. hang around till 11ish at nite.
meet
huilam
, who very kindly drives me and bran down to
boat quay
before heading to altivo with sue. me and bran grab a jug at wow before heading to
altivo
to join the 2. altivo is lovely. must go back sometime soon.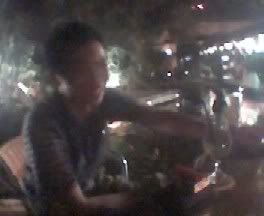 this is actually HUILAM, at altivo. he's moving around so the pic came out blur lah. hee. ok, fine. my handphone camera quality is horrendous. bah.
head for
home
early, before 2am.
zonk out
. spend entire sunday wasting away at home on bed.