Thursday, December 23, 2004
ooh .. my aching back
i spent last nite sitting on my cold tile floor. hunched over and fighting a perpetual battle with my scotchtape and wrapping paper.
and i'm paying for it today.
my back aches to high hell. my shoulders feel like i've been caught in a wrestler's armlock overnight. my arms seem like they're gonna drop off any minute.
wrapping presents from 8pm to 2.30am.
6 and 1/2 freaking hours
man, thats a bloody shitload of presents. either that, or i'm a really really super super slow wrapper. heh.
the end results :
my nicely wrapped presents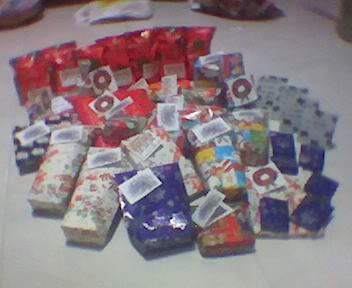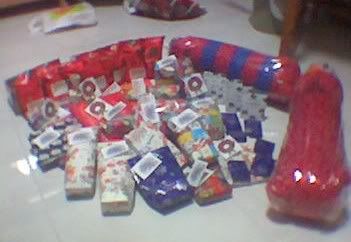 i think all the presents occupied about 1 square metre floor space. (!)
note the 2 unwrapped bolster thingies in the 2nd picture. they're so big i need 2 pieces of wrapping paper to wrap each one!
which reminds me - i need to buy wrapping paper!